digiLED complete first "field of play" display in US major league sports for the Indiana Pacers
The centre-hung structure features a four-sided gondola, with each face providing a convex curve to optimise wide angle viewing. In addition to the screens, digiLED supplied upper and lower custom-built LED rings, and an 'underbelly' screen, which runs the full length and width of the scoreboard giving exceptional views of live action, game replays and statistics from every seat in the house.
Due to viewing angle requirements and building weight restrictions, digiLED's high performing, lightweight H-TEK product was the perfect choice for this massive display. Many design and production modifications were required to achieve the demanding project requirements.
The scoreboard is complemented by 200 square metres of digiTHIN HD and digiTILE MAX products located in courtside displays, entry tunnels, media rooms, interview rooms, concourse and dining areas.
Thanks to digiLED's centre-hung screen, fans at the Bankers Life Fieldhouse now enjoy a better field of vision.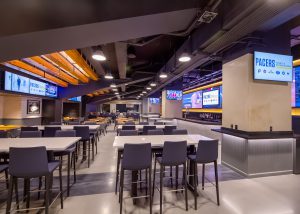 ANC & Pacers Sports and Entertainment
Graham Burgess, CEO digiLED, said, "We're very proud of this installation. We've installed digiLED screens at many US venues but this is the first to be the main feature on the field of play. Additionally the centre-hung screen is an incredible technical achievement that uses our unique customisation capabilities to give the fans at Bankers Life Fieldhouse a first class view no matter where they're sitting. The positive feedback from the fans, our partner ANC and their client has been overwhelming".
"We are proud of our partnership with digiLED and their ability to deliver customised solutions based on our designs," added George Linardos, CEO, ANC. "The new centre-hung structure is one of the more creative executions on the market; and the fine-pitch LED displays in the premium areas could stand alone in creating a significant wow factor fans will remember".