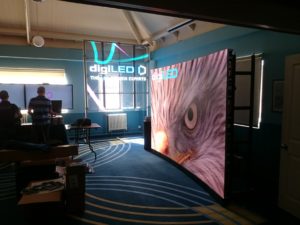 digiLED will be showcasing its latest LED screen innovations as part of Audio Visual Material's two-day Technology Event, held at the world-famous Brooklands Museum, commencing this morning (Tuesday 4 July).
Experience the vivid imagery of our super-smooth curving display at the event, with our latest addition, the highly-dependable and versatile digiLED x-TEK: it's capable of completely seamless convex and concave curving of up to +/- 10 degrees, utilising its wedge connector mechanism for precise angles. Also on display is our digiLED MIRAGE N, the lightweight LED screen system offering two visual formats in one space – a transparent LED screen that when required can cleverly disappear, allowing the image behind to be in the spotlight.
Visit our stand and meet the LED Screen Experts to discover how digiLED's range of advanced, high-quality products provide stunning images, reliability and offer ultimate creativity to complement any application.