Video courtesy of Amigo
---
Believed to be the first installation of an LED screen on a biomass flue worldwide, digiLED have successfully completed the fitting of its QUASAR LED display technology on the recently developed Waterside campus at the University of Northampton, on behalf of its client, Vital Energi.
Comprising thirty-three 10mm pixel pitch digiLED QUASAR modules, the display on the flue tower measures over 27 square metres and overlooks the University campus. Considerable care was taken to establish and maintain the screen's operating temperature: ventilation holes were designed in the metal cladding to aid airflow.
Selected for its environmentally-friendly specifications, QUASAR operates sustainably, sharing the client and end user's ethos to provide energy-efficient solutions. The system has an IP rating of 65 on the front and back of each LED module, as well as possessing an auto-brightness sensor to monitor ambient light levels every five minutes, reconfiguring settings to reflect current weather conditions and time of day.
Vital Energi Project Manager, Stuart Hoyle, said: "The installed product ticks all the boxes. Following the screen's switch on at the client opening day, they were, and still are, amazed at the picture clarity and quality produced by the hardware.
"digiLED QUASAR technology is ideal for this application as the system's modules are ultra-efficient, have an incredible lifespan and maintenance is safe, simple and at little expense. The idea that the screen can be seen clearly from the main road approximately 600m away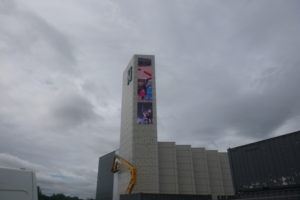 is a huge bonus for the promotional messages of the University.
"Tonie Wishart (digiLED Installation & Maintenance Manager) and his team worked brilliantly even in fairly difficult conditions when installing the display on to the flue tower. They were very easy to deal with on this project: their meticulous planning and execution of the works was faultless and the result is superb. In addition, Tonie ensured there were no snags that would require attention post-completion, the only contractor on this job to achieve this," commented Hoyle.
Tom Mudd, digiLED Technical Director explained that modern day LED screen technology "is capable of working 80% more efficiently" compared to its counterparts designed at the dawn of LED screen systems, by encompassing components which operate using reduced power consumption.
"digiLED consistently undertakes processes and makes informed selections that will positively impact upon the local and global environment to preserve natural resources. For example, our innovations have replaced antiquated systems, no longer needing the huge transformers, massive copper cables and electrical supplies of yesteryear," added Mudd.