digiTILE LED screens are on the right track at Penn Station
LED screen experts digiLED worked closely with their North American distributor, design and execution company ANC, to integrate more than 3,000 square feet of digiLED LED screens into the stunning new Moynihan Train Hall in New York City.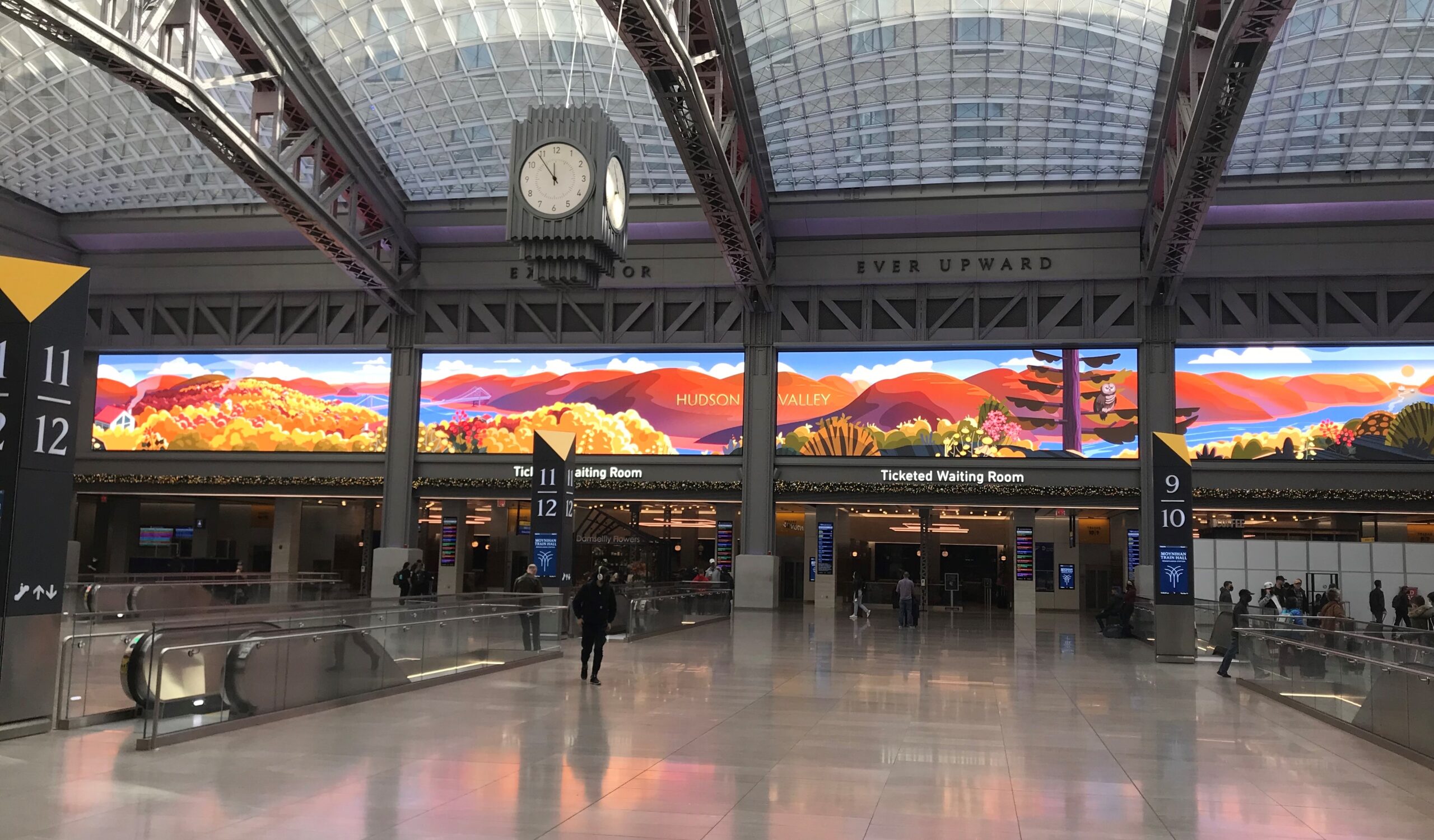 The main train hall is dominated by four giant 3.9mm digiTILE MAX LED screens, and a further eight 1.5mm digiTHIN HD LED screens are located in prominent positions throughout the station.
Moynihan Train Hall is part of a major redevelopment of the historic James A. Farley Post Office building, expanding Penn Station in Manhattan. Moynihan serves local train services known as LIRR (Long Island Railroad) and Amtrak, the inter-city rail service on the north-east coast serving the cities of Boston, Philadelphia, Washington, Wilmington and New York City.
Natural light spills across the new hall, through its massive 92-foot-high skylight ceiling which houses art installations from some of the world's most celebrated artists. Daylight coming through the glass meant the ANC & digiLED team had to carefully consider the position of the sunrise and sunset timings over Manhattan. During the planning and design phase of the project, the timings and positioning of the sun were evaluated to ascertain where light would fall on the screens at certain points during the day. To ensure it did not affect the viewing of the screens, digiLEDs outdoor louvres provided all the necessary shading to the 4 main LED screen surfaces (digiTILE MAX) overlooking the train hall.
Due to the Covid-19 pandemic digiLED's technical team were unable to travel to assist with the onsite installation, thus meaning a lot of communication had to happen via Zoom, WhatsApp and FaceTime. Tom Mudd, digiLED's Technical Director, worked remotely from his kitchen on England's south coast, assisting ANC with onsite programming and commissioning helping to finalise the project. digiLED and ANC were able to complete all aspects of the project on time and to positive public response, despite coronavirus-related challenges.
'Our partnership with ANC has produced some amazing installations across professional sports in North America, but this Moynihan project gives digiLED LED screens visibility across New York City and the whole of the northeast of the United States'  Graham Burgess, CEO – digiLED.
'Transforming Moynihan Train Hall into a premier commuter concourse at the nation's busiest train station, New York Penn Station, is the perfect example of the unforgettable experiences ANC takes great pride in creating. Through our innovative technologies, along with stunning graphics of the great city of New York designed to promote travel, we were able to create a commuter environment that is both welcoming and engaging' George Linardos, CEO – ANC.