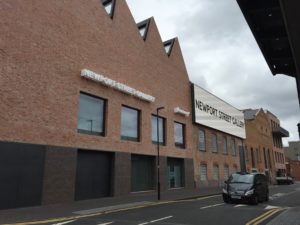 digiLED display screen technology installed on the exterior wall of Damien Hirst's Newport Street Gallery has contributed to the venue winning the 2016 RIBA Stirling Prize, the UK's leading architecture award.
The Stirling Prize judging panel said: "The collection of buildings is beautifully curated, pulled together by the use of brick yet still expressive of their individuality. The playful use of LED technology gives a contemporary addition to the façade."
The 10mm pixel pitch digiLED ITe product was selected to fulfil the gallery's requirement of acquiring a quality and reliable system, featuring front access serviceability and being lightweight in structure therefore enabling it to be positioned on an old building. Ideal for fixed installations, the system was manufactured to offer full colour video display with exceptional contrast. The highest quality LEDs offer sharp, crisp images thus reflecting the gallery exhibits perfectly.
Each aspect of the project was meticulously planned to ensure that the screen was commissioned to the highest standard, to achieve the client's desire and digiLED's dedication to deliver perfection.
Situated approximately 10m from the mainline into London Waterloo station, the 19.2m x 4.6m screen was designed to promote the gallery to the 320,000 commuters bypassing daily.
Its proximity to the railway raised safety concerns from Network Rail who declared that train drivers' vision would be impaired by the brightness of a screen positioned directly behind rail signals; however, digiLED overcame complexities in the design stage when they provided the technical solution of substituting louvres, reducing the horizontal viewing angle, satisfying consultant welfare measures.
digiLED Installation Manager Tonie Wishart supplied an innovative engineering solution to strengthen the aged building, commenting: "Protecting the Grade II listed building was a priority. To prevent damage and maintain the wall's integrity, a "keyhole method" was devised to support the screen. Threaded rods were inserted through the brickwork and clamped onto the new structural support steelwork in the gallery's internal wall."
"As part of the design brief, we were not allowed to compromise the appearance of the building and make the screen look as if it was an integral part of the wall. No cable entry points or mechanical fixings were to be seen by the passing trains or the street below. The screen installation phase began after the internal building works had been completed, so all of the necessary infrastructure to make the screen function had to be installed without incurring any damage to the gallery," explained Wishart.
Newport Street Gallery is the realisation of Hirst's long-term ambition to house his art collection in public. Amongst others, the collection features Francis Bacon, Banksy, Tracey Emin and Pablo Picasso as well as artwork created by indigenous artists from the Pacific Northwest Coast.
Designed by architects Caruso St John, the gallery measures 37,000 square feet split over two levels. This is the first time Caruso St John have won the prestigious architecture award following nominations on two previous occasions.