PLACES ARE STILL AVAILABLE

on 27th & 28th September (afternoon sessions)
GET IN TOUCH FOR FURTHER DETAILS – racedays@digiLED.com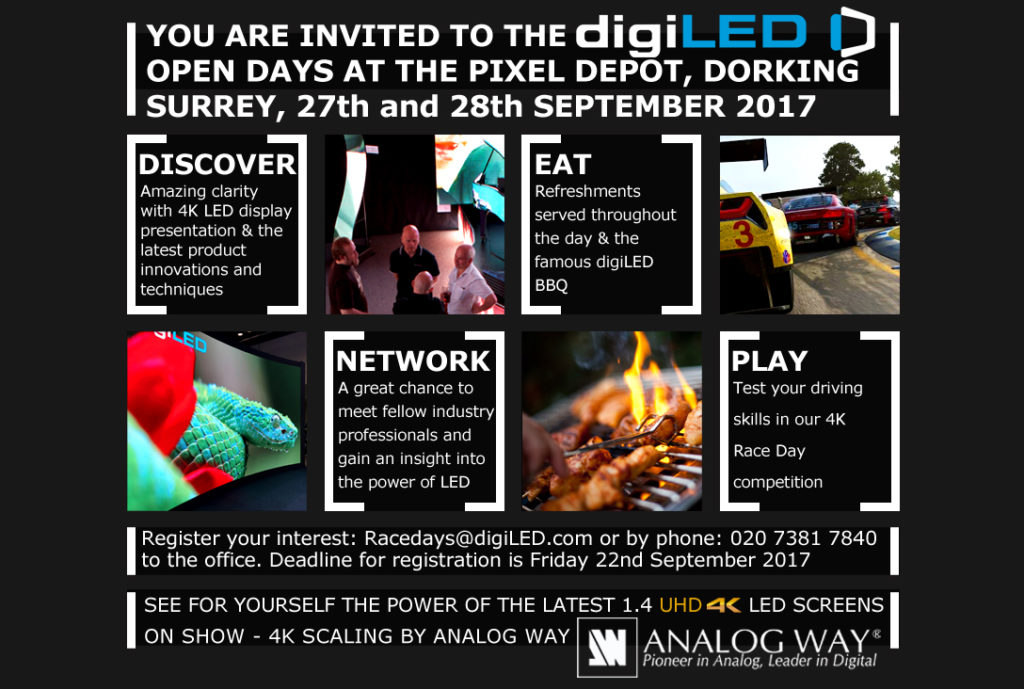 Don't forget to register for our Open Days being held at The Pixel Depot next Wednesday & Thursday (27 & 28 September). If you're an AV professional interested to learn more about the world of LED from our renowned team of experts and to experience the phenomenal visuals of our spectacular new 4KUHD 1.4mm LED screen on display, please contact racedays@digiLED.com or call 020 7381 7840 to reserve your morning or afternoon place now!
LED Screens Uncovered & 4K Race Day:
Experience unbelievable image quality with the awesome 1.4mm vHRi LED screen
Participate in hands-on demonstrations of our latest product innovations
Get insider tips from our resident LED Screen Experts
Network with like-minded individuals to make sure your next project is a hit
Compete in our 4K Race Day event with a chance to win a prize
Join us for the famous digiLED BBQ & refreshments will be served all day
We look forward to welcoming you to The Pixel Depot and showcasing the latest addition to our award-winning range of LED display solutions.