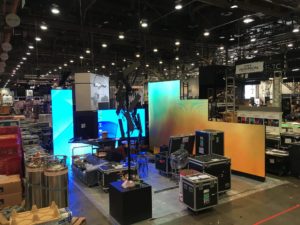 We have delivered tens of thousands of square metres of product to date, so stop by LDI 2016 booth 2958 and have a chat to find out why digiLED is the company behind some of the world's leading LED display solutions.
digiLED continuously develop innovative, high quality products that focus on reliability and usability at competitive prices. With a comprehensive range of fully certified indoor and outdoor LED displays, there's a digiLED product for all applications.
We'll be showcasing a variety of products including digiLED Toura 6, fresh from Team USA's triumphant Ryder Cup victory and notably used at Bristol Motor Speedway; making their Colossus TV, the world's largest four-sided, centre-hung, outdoor screen – almost 10,000 square feet, using 6mm pitch.
In addition to the Toura, we're showing our digiLED iMAG system; designed for the indoor live events market, and with plenty of cross-rental partners in the US holding 2.6mm & 3.2mm inventory, it makes a great investment.
digiLED LightSlice, our indoor/outdoor creative slice of video will also be on display along with a stunning multi-dimensional video sculpture using digiLED DLP-Q – you have to see it!
Demonstrating our green credentials, there's a recycled MCK7 screen, original chassis but a bright new face.
Use the code below for free entry to the exhibition. Be sure to visit booth 2958 to see how we can assist you with your latest display requirement. We will have a beer or coffee waiting for you.