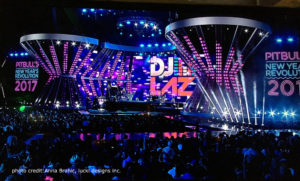 Major digiLED clients PBTV were in Miami to provide a range of our LED display screens for Pitbull's New Year's Revolution show celebrating the welcoming of 2017.
Working closely with production designers, the PBTV team fashioned a visually stunning set using creative LED products. The design included three digiLED DLP 5.9mm LED floor systems positioned at right angles to the show's audience, enough digiLED MK7 panels to construct two 59.5sqm video wing walls and an upstage video wall measuring 167.2sqm, as well as 170m of digiLED LightSlice which lined the stage and the edges of the two wing walls. In addition, digiLED Mirage MC15 transparent LED modules were sought to create the pair of giant "hourglass" set pieces framing the stage.
The design's dynamism engaged both the Bayfront Park crowd as well as the broadcast audience around the country.
Anne Brahic, Production Designer for the show, said: "The new 5.9mm floor system was great. They come with their own legging system which allowed us to install them without headaches and they support the weight of people walking on them, which was essential too. They looked great in all our overhead shots. The LightSlice product was also a great discovery for me: the 2-pixel wide linear application was perfect for lining all the edges of our stage and runways. The way they clip on to brackets via a magnetic attachment point made the install super-efficient."