With thousands of square metres of digiLED kit in operation globally, our distinguished rental partners' winter seasons of events are well underway. LED screen systems are being integrated into their clients' elaborate, innovative set designs, amazing and engaging audiences worldwide.
digiLED's major rental partners Pete's Big TVs (PBTV) have delivered world-class displays at several locations across the United States in recent weeks. Below is a flavour of some of the projects they have completed using their stock of digiLED's high-performance products.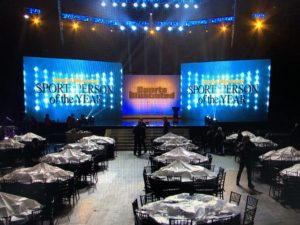 Dynamic digiLED backdrop for Sports Illustrated Sportsperson of the Year
Twin 8m x 4.5m digiLED MK7 LED screens were installed for the Sports Illustrated Sportsperson of the Year ceremony, held on 5 December at the Barclays Center, New York City.
The screens lined each side of the stage and provided a backdrop for the ceremony's presenters as well as displaying live audience shots and video playback of pre-produced packages about the award nominees.
Hosted by Joel McHale and broadcast on NBC Sports Network, this year's award winners were Jose Altuve of the Houston Astros and Houston Texans' star defensive end JJ Watt, for their contributions to help the city recover following the devastation of Hurricane Harvey.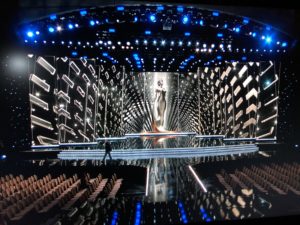 Huge PBTV operation to deliver 66th Miss Universe Competition
The 2017 edition of the Miss Universe pageant was held on 26 November at The AXIS at Planet Hollywood, Las Vegas and PBTV were on hand to provide LED screens and crew for the event.
Almost 1000 7mm pixel pitch digiLED MK screens were used to construct six LED walls on stage. The displays were positioned in pairs at upstage centre, midstage and downstage, all measuring 9m high, with widths ranging from 2.5m to 6m.
Watch the video from the show broadcast on Fox here.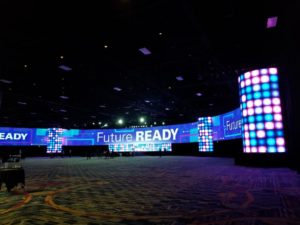 Curving LED displays formed at Orlando World Center Marriott
PBTV supplied more than 600 digiLED DLPo panels for ADM Productions event held at the Orlando World Center Marriott in November.
The 5.9mm DLPo tiles were used to establish a quartet of 6m diameter semi-circles around the hall, each measuring 6.5m tall. The same digiLED product was used to create three screens on stage: an 8m x 3m display in the centre was flanked by two slightly smaller screens either side.
The Bright Screens of Broadway
PBTV is supporting the Broadway production of The Parisian Woman located at the Hudson Theater, with the use of digiLED products LightSlice and digiFLEX.
The show's video design is by three-time Drama Desk Award nominee Darrel Maloney and utilises the lightweight and semi-transparent attributes of LightSlice and digiFLEX to create a scenic wall, which is flown in and out during scene changes.
Written by House of Cards creator Beau Willimon and directed by Tony Award winner Pam MacKinnon, The Parisian Woman debuted on 30 November and runs until 11 March 2018. Inspired by Henri Becque's controversial 1885 play, La Parisienne, it features Academy Award nominee Uma Thurman, star of the acclaimed 1994 hit Pulp Fiction, as well as Josh Lucas, Blair Brown, Marton Csokas and Phillipa Soo.