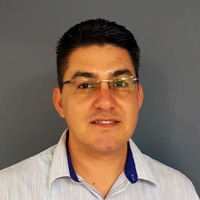 We're delighted to announce the addition of Salvador Sandoval to the team. Sal will manage digiLED's technical sales responsibilities for the Americas.
Sal joins digiLED with nearly twenty years' experience in the broadcast and professional video industry, bringing a deep understanding of video systems and hardware development. His background includes selling to and collaborating with manufacturers in the broadcast, professional and digital cinema markets and clients – formulating, developing, and delivering revolutionary video products and services.
Prior to joining digiLED, Sal worked as Chief Technology Officer for Samaserve LLC and was a principal product engineer at Sony Electronics' Broadcast Systems and Solutions company. He earned an M.S. in Electronic Engineering from San Jose State University and a B.S. in Electrical & Electronic Engineering from the University of California, Sacramento.
digiLED has several current users of its products including major international rental partners, auto manufacturers, high-profile sports venues, retail stores, educational establishments and leisure facilities. LED display markets continue to experience massive growth and our newly-strengthened US team will be targeting further sales in these sectors by adding to their already impressive list of integration partners across the region.
Sal said: "North America has been a major market for digiLED for a considerable length of time. Our customers appreciate digiLED's understanding of the LED manufacturing business in Asia and its passion to construct innovative products designed for ultimate performance, which are delivered on schedule and provide superb value for money. I am delighted to be a part of the brand and am enthusiastic about aiding its continued development in the region and beyond."
Graham Burgess, digiLED CEO, said of the appointment: "Sal has the experience and industry knowledge that is crucial for digiLED to continue with the development of our business in North and Central America. Sal's extensive technical expertise sets him apart from other LED techs and gives us much broader knowledge than most of our competitors. His range of contacts across all market sectors will enable him to quickly get our technical support services up to the standard to which we aspire."