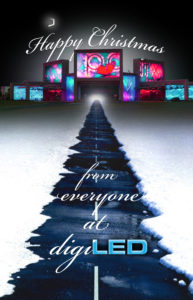 Wishing you and your family a very Merry Christmas and a safe, prosperous New Year.
Thank you for supporting our business this year. We are excited about the bright future ahead and we look forward to working with you on the road to success in 2018.
---
Take a look back at our best bits of 2017:
Feb: digiLED unveils new office in Shenzhen   –   Apr: Slam dunk at basketball event with digiLED Toura
May: digiLED screens star at MTV Movie & TV Awards   –   Jun: New x-TEK smashes it at InfoComm 2017
Sep: LED screen world first at UoN   –   Nov: LDI 2017 scatter screen success
---
Our offices will resume full working hours on Tuesday 2nd January. Kick-start your 2018 by booking an appointment to visit the world's best LED screen showroom, The Pixel Depot!