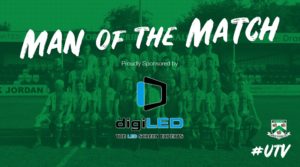 We are delighted to be supporting North Ferriby FC by sponsoring their Man Of The Match (MOTM) programme this season. North Ferriby FC is the phoenix club that has restored football to Ferriby following the high profile demise of North Ferriby United.
Graham Burgess, digiLED CEO, has a long history with football in his home town, playing for South Hunsley, captaining the East Riding schoolboys and playing for local teams, including Malet Lambert OB and South Cave United, before starting Ferriby KGV in 1981.
KGV was sponsored by Peter Burgess, Graham's father's company (and was way ahead of its time, as there was no sponsorship in Pro clubs back then). Eventually it became Ferriby Sporting Club, and was one of the top sides in the Hull Sunday League. The club ran until around 2010-12, even though Graham had moved away from the area some years before.
Graham now lives in London, but he still manages to get to Ferriby games when he can and was, of course at Wembley for both the FA Vase and FA Trophy finals.
His passion for football is evident with digiLED's involvement in supplying high profile sporting venues over the years, such as at the grounds of Hull City, Arsenal, Hampden Park, Headingley and Twickenham as well as further afield in Europe and the States.
"Along with the local community, and the wider football world, I am delighted that digiLED are involved with North Ferriby FC as they take their place back in the football leagues. Born and bred in the village, I grew up watching Ferriby at this level, let's hope we can see the Club build on an impressive rebirth. Good luck to Les, the management, players, fans and everyone associated with North Ferriby FC".
Graham Burgess, CEO of digiLED
https://twitter.com/north_ferribyfc/status/1157573807810523137?s=20