Another COVID-hit Chinese New Year
As we approach the Lunar New Year, it is clear that the celebrations in China will again differ from the norm.
Our Shenzhen based team are resigned to being unable to travel back to their hometowns to celebrate the Spring Festival as they would normally do. Recent lockdowns in the Luohu area of Shenzhen mean that any travel would involve a longer quarantine period than their entire holiday, so they're busy booking restaurants to celebrate together in Guangdong with colleagues, rather than the traditional family gatherings.
Many state-owned employers are also trying to "dissuade" employees from travelling, so the mass migration we normally see during Chinese New Year is likely to be less frenetic.
digiLED will encourage staff to take long weekends to go and visit family, as and when the COVID-19 situation allows – they're lucky as most China companies aren't able to be so flexible. As the Omicron variant spreads across Asia, China's "Zero COVID" policy will be tested, especially if it infiltrates the Middle Kingdom and results in restrictions like those we've seen recently in Tianjin, Ningbo and Xi'An.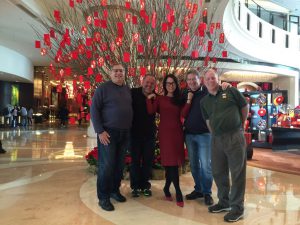 We've noticed factories closing earlier this year; several component subcontractors have already closed this week (10th January) and won't return until 8th February. Consequently, any orders placed with LED manufacturers now will have an effective start date in the middle of February, and with lead times increasing, many orders won't be completed until early Summer.
With ongoing component shortages, and if we do see further lockdowns, the situation will only get worse. If you are going to need LED displays during 2022, I'd suggest talking with your supplier sooner rather than later!!
Follow Graham on twitter at @_LEDexpert
#LEDscreens#AVtweeps #ThePixelDepot #TheLEDScreenExperts #LED #LEDScreens #AV #AVtech #technology #pixel #pixelpitch #thefutureisav#AVtweeps#dailydooh