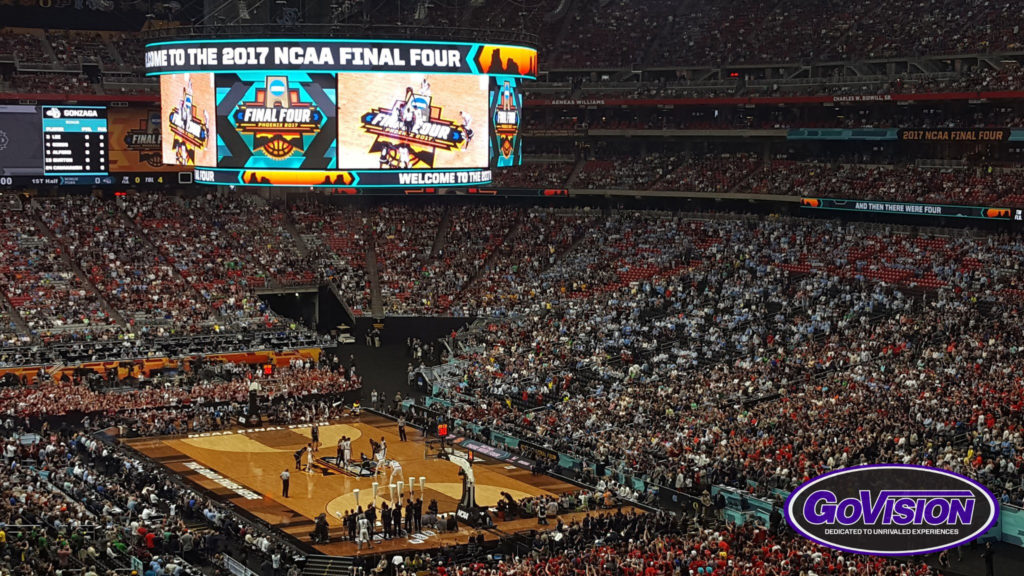 In collaboration with GoVision, our premier commercial partner, digiLED Toura6 LED modules presented all the action at the 2017 NCAA Final Four held at the University of Phoenix Stadium in Arizona earlier this month.
The LED screens erected for the four-day basketball event comprised digiLED's Toura6 modules which were used in GoVision's previous award-winning project, Colossus TV – the world's largest, four-sided, centre-hung outdoor display, located at Bristol Motor Speedway, Tennessee.
The bespoke design encompassed a quartet of high-definition video displays each measuring 53.5sqm, screens displaying game statistics as well as an LED top ring with a diameter of 24.4m. Altogether, 764 LED panels were used to construct the screens containing in excess of 12 million LED pixels.
digiLED Toura offers a range of pixel pitches to amaze audiences, whether it's for a dynamic video backdrop, dramatic lighting effects or curved video displays, its fantastic contrast ratio provides consistent punchy images. Ultra-lightweight, fast-rig mechanics and a built-in ladder system makes Toura the perfect solution for rental applications.
Scott McKinnon, GoVision Executive Vice President, Sales & Marketing, said: "The Toura6 platform provides the perfect combination of lightweight, brightness and quick rigging mechanics to fit this massive project perfectly."
North Carolina were the eventual winners of this year's competition, defeating Gonzaga 71-65 in the Championship game.
The displays have now been disassembled and reinstalled again at Bristol Motor Speedway in preparation of the full weekend of racing taking place April 21-23.
About GoVision™
GoVision LLC (jumbo.tv), a Learfield company, is a premier provider of large-scale LED video displays — for rent or purchase — and related services. Our comprehensive suite of services span from North America's largest fleet of turnkey mobile units to an enormous inventory of modular LED panels, creative/content services, the award-winning GoVisionTV and custom offerings such as design, fabrication and installation. GoVision is dedicated to unrivaled experiences in the unpredictable event business, and delivers more than 1,000 shows per year ranging from small local festivals to the last four Presidential Inaugurations, the 2015 Papal Visit and multiple NCAA Final Fours, Super Bowls, Ryder Cups, PGA tournaments and professional All-Star Games. GoVision is the screen provider of AT&T Stadium Plaza, Bristol Motor Speedway, The LPGA Tour, TCU and other colleges. The company is based in Argyle, Texas, with offices in Napa, Calif., Portland, Ore., Chicago and Las Vegas.