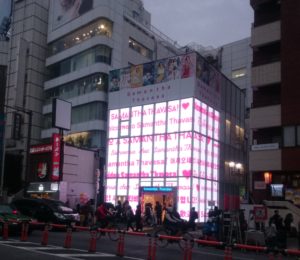 digiLED has supplied a giant LED screen measuring 110 square metres in the window of a Samantha Thavasa store in Japan.
The high-resolution retail screen comprises digiLED Stella-M range of LED modules, which are designed for superb performance and precise engineering for fixed installations.
The new LED display system delivers high brightness levels and contrast, whilst maintaining an ultra-low power consumption ensuring small operating costs.
Functional design matched to affordable prices for applications, coupled with reliable electronics and CE certification, as well as optional energy-efficient versions, makes Stella a star performer in the most demanding scenarios.