Tropicana Field, located in St Petersburg, Florida has been home to Major League Baseball team Tampa Bay Rays for 25 years. Recently the stadium had a dramatic upgrade with more than 4,800 square feet of brand-new high brightness LED displays, supplied by the LED screen experts digiLED.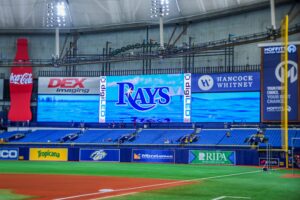 The new displays were recently unveiled at the season-opening game on March 30th, when the Rays took on the Detroit Tigers. It was an exhilarating night, as the team won their first of 13 consecutive games – something that hadn't been seen since 1884.
The main stadium is now dominated by three new giant 10mm VISION A LED screens, perfect for giving the 42,735 capacity crowd a close-up of the action.
Two of the smaller LED screens are located in the Rays control room and are replacing an array of LCD monitors. digiLED's digiTHIN HD was used to replace these which have enabled the venue to continue showing multiple images on one screen whilst also being able to display a single larger image.
From start to finish digiLED worked closely with the team at Tampa Bay Rays to ensure their vision was brought to life, creating a captivating display that truly enhances the fan experience.
"The Rays partnership with digiLED has made the process of upgrading the LED at the Tropicana Field effortless, their expertise in the LED industry is truly unmatched. The stadium now features cutting-edge technology and stunning displays that will help create an engaging atmosphere for our fans." – Michael Weinman, Director – Tampa Bay Rays